04/20/2014 - 9:31pm
I was looking forward to the Camden Night Gardens all this week. I couldn't wait to get on the waterfront and see just what it looks like when we make an effort to reclaim an urban space and do something fun with it. I was watching the clock in work, waiting to get out of there so I could get on a train to cross the river. Then a few hours before the event, I got worried. What if no one showed up? What if getting out to Camden was just too crazy for people? What if it wasn't warm enough and people stayed home?
Thankfully none of that was the case. Last night was awesome.
Overall, the night was a success. It was a little colder than I thought it would be (it might be better to do this in late May or early June next time), but people still came out and there was a ton to see and do. I can only imagine the turnout with even more promotion and coverage (and warmer temperatures). You're just not going to get a festival like this in any other town in South Jersey. Camden's dramatic vistas of the Delaware River, the bridge, and Philadelphia coupled with the imaginative and creative efforts of those who want to bring people together to celebrate the good things in the city resulted in a unique festival I was proud to attend. I can't wait for the next one.
04/20/2014 - 9:22pm
I've been covering Camden for the Inquirer since August and I get my share of criticism, often fair, about the negative depiction of the city.
It's a place that has owned too many unwanted superlatives - highest crime rate, lowest graduation rate, all compounded by extreme poverty.
But Thursday's North Camden night garden festival showed off the spirit and creativity of the city and the untapped potential for its North Camden waterfront, currently covered in parking lots and grassy fields. Cooper's Ferry Partnerships spent around $20,000 in the form of a William Penn Foundation grant to put on the show.
With the Ben Franklin Bridge twinkling in the background, hundreds gathered around a stage in front of the Camden water tower, illuminated in colorful lights. As girls from the Sophisticated Sisters danced, their movements projected in giant shadows behind them onto the watertower. And as the night got darker, the shadows became even more clear for the salsa dancers in the Suzette Ortiz jazz trio, the African drum ensemble and others.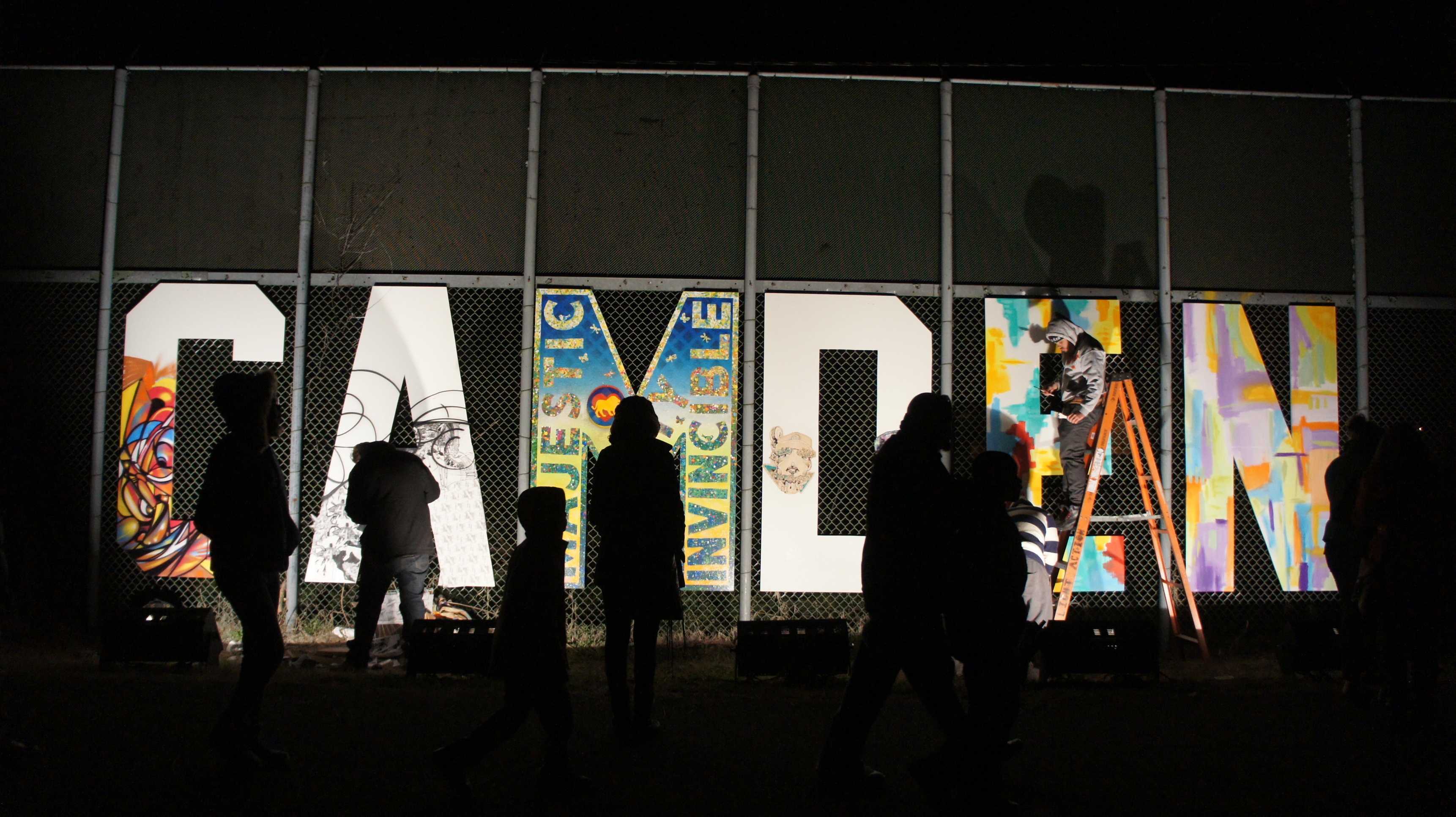 Artists from around Camden painted a mural while attendees signed a giant peace sign nearby. Jamal Balkman, an artist and clothing designer for Camden-based clothes line, Sweet Tooth SpecialTees, worked on the "N," in the mural, which spelled out "Camden."
"I love it. I'm just glad to see the positivity of the arts being highlighted," Balkman said. "Being an artist you don't see that much and it's really cool." The 34-year-old Centerville resident said he'd never been to the North waterfront area - the home of the former Riverfront state prison. "Never, in my entire life. It's really cool to see."
There were food trucks, bikes, a full BMX course (positioned capriciously close to the river but the performers stayed on dry land) and a bonfire, which brought people together by necessity in the 30-degree, windy weather.
Despite the frigid cold, which unfortunately made for quick visits for many of the hundreds who came through, the setup and mood of the evening transformed the space into an artistic festival.
But Camden has always been an artistic city, said Dwayne Cooke, 16, of North Camden. "This isn't so out of place. Camden's not really what people make of it. We've got a whole lot of talent here," he said, watching performers on stage.
Next year - if there is a next year - organizer Cooper's Ferry Partnerships should consider doing it a month further into Spring.
Speaking of 'Happy' things in Camden, the goodness project released its 'Happy' music video showcasing nonprofits throughout the city to the tune of Pharrell's over-played but well-loved song, and it's impossible not to smile watching it.
Yes, there's a lot that Camden does not have, and should - a supermarket, a movie theater, a supportive educational system for its children and a job market for its adults, and those storylines will continue to be told.
But it's also a city with a whole lot of heart, and that's a storyline I won't let go of either.
04/16/2014 - 10:19pm
This Thursday, the large, vacant space on Camden's waterfront left behind by the demolition of Riverfront State Prison in 2009 will be transformed. The Brooklyn art collective Nuit Blanche, in association with the Cooper's Ferry Partnership, is putting on a party. The event is meant to coincide with this month's Third Thursday arts crawl, a monthly event started three years ago by the owners of Gallery Eleven One, an art exhibition space built inside of a 1906 firehouse located in the Cooper Grant neighborhood. There will be light shows on the water tower, performances from local hip hop artists, brass bands, and the city's famed Sophisticated Sisters and Distinguished Gentlemen, food from local restaurants, and BMX bikers showing off tricks. For a fenced off plot of land that isn't doing much for the city, this is a decent change of peace. "But," I can hear people ask, "why would I go to Camden? And at night, are you crazy? Isn't that place dangerous? All I ever hear about Camden is crime and corruption." That's sort of the point. The Night Gardens event is more than just a party; it's the city's chance to harness the sheer willpower of individuals who want to make a place better, if only for a night, to show that when people get tother for something positive, something great can happen. What it comes down to for me is the old cliche of strength in numbers. Think about the parts of urban life that people consider sketchy. Dark streets at night with no one around. Dingy, empty subway stations in the off hours. Empty plots of land where building should be. Now think about how those turn into completely different places when people show up. Night markets have been transforming city streets at night in Philadelphia over the past few years with huge turnouts. Subway stations burst to life when a throng of people use SEPTA to get to a sporting event at the stadiums. And the Pennsylvania Horticultural Society turned an empty lot on Broad Street into an amazingly successful beer garden last summer. What this phenomenon speaks to is the fact that the urban fabric is not itself at fault, but rather, what makes all the difference is how we use its physical spaces. We're the ones who decide if we're going to let spaces stay unused, leaving them to feel unsafe, or whether we're going to use them to bring people together for something great. We're the ones who bring life to a neighborhood. The power is ours. All it takes is showing up. So do yourself a favor and change your ideas of what Camden has to offer. Come see its culture, see its proud youths, listen to its music, and eat its food. Come do something unexpected and potentially amazing. You can check out the event's Facebook page at
https://www.facebook.com/pages/Camden-Night-Gardens/455296604597443
.
To read more click here.